I woke up this morning to the news of the terrorist attack on the Charlie Hebdo Magazine office in Paris. Twelve people were killed and eleven wounded, including two of my French cartoonist friends, Tignous and Wolinski. Cartoonists around the world are grieving.
Americans treat editorial cartoons as a trivial daily joke in the newspaper – in France, editorial cartoons and loved and respected. The Louvre has a branch museum devoted to cartoons; imagine if the Smithsonian had a cartoon museum, that's the way cartoons are revered in France.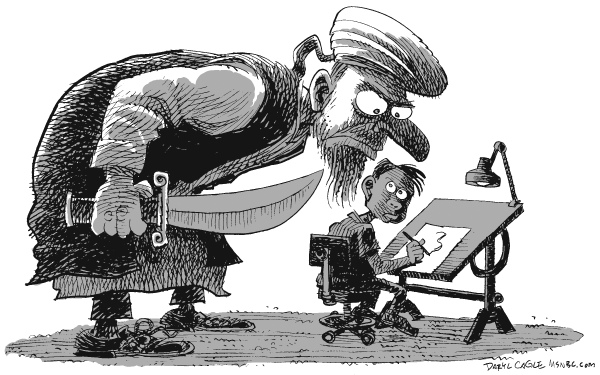 "Charlie Hebdo" is a silly name; it is a weekly magazine filled with editorial cartoons, easily found on news stands everywhere in France. "Hebdo" means "weekly" in French, and "Charlie" comes from France's love for the comic strip "Peanuts" and Charlie Brown – therefore "Charlie Hebdo." The top cartoonists in France vie to be on the pages of Charlie Hebdo.
There are cartoon festivals all over France – the best one for political cartoonists is in the small town of St Just le Martel; I've been attending for years, along with other cartoonists I syndicate. The townspeople pitch in to throw a festival for the editorial cartoonists every year; villagers put cartoonists up in their homes, and they award a live cow to the "Humor Vache" cartoonist of the year. One greatly respected winner of the cow was Georges Wolinski, a brilliant cartoonist with a masterful loose, swishy, wordy style, highly respected by the French. We were fellow cow winners, having a beer together last October; it is hard to imagine that he is gone.
The Charlie Hebdo cartoonists are a diverse group of charming characters; they are the heart of the French cartooning community. There are not a lot of editorial cartoonists. We get to know each other; the murders are a blow that strikes close to all of us.
The Charlie Hebdo artists were energized and incensed by the Danish Muhammad cartoon fracas a few years ago. French cartoonists have a macho attitude, seeing themselves on the front lines of a free speech debate. One Charlie Hebdo issue, touted as "edited by the Profit Muhammad" had all blank pages. One Charlie Hebdo cover featured a drawing, by French cartoonist "Luz" of the magazine's publisher/cartoonist "Charb" having a sloppy kiss with a Muslim Man, under the headline "L'Amour plus for que la haine" or "love is stronger than hate." Charb was among those killed in the terror attack.
Terrorists have no sense of humor. Cartoons loom large in the Arab world, typically on the front pages of Arab language newspapers. It is no wonder that our cartoons seem to bother the terrorists more than our words. Sitting behind a beer with Charlie Hebdo cartoonists, the talk often turns to Islamic extremeists and their assaults on press freedoms. No one can doubt that editorial cartoonists are leading the fight for press freedoms now.
Today we are are grieving, but as we move forward, I hope that our cartoons won't be chilled by these murders and that the cartooning community will step up to this challenge with even more brilliant and insightful work – I'm sure the French cartoonists will do that; they are my heroes.