Here's my recent cartoon about California battling President Trump. These Trump times are making trouble for cartoonists, too.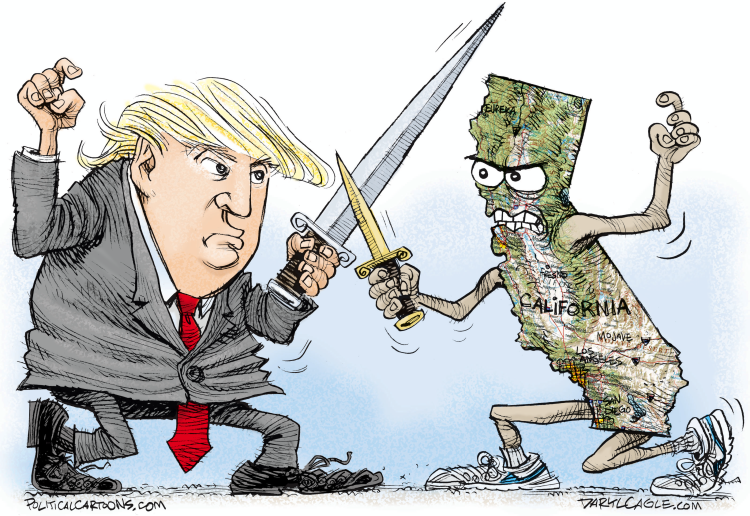 Here's my cartoon in this morning's Los Angeles Daily News ...
I used to see my cartoons in The Daily News regularly – not anymore. The Daily News is part of a group of about a dozen conservative-leaning papers called the Southern California News Group (SCNG) that is run from a central editorial command post at The Orange County Register. The SCNG papers redesigned their editorial pages to eliminate the traditional spot for a daily editorial cartoon (they run the smaller,  conservative comic strip "Mallard Fillmore" on their editorial pages). My cartoon is the only editorial cartoon in The Daily News today, and likely the only editorial cartoon in all of the SCNG papers this week (I haven't checked each paper; this is an educated guess).
The Los Angeles area is now an editorial cartoon desert. The Los Angeles Times (which has a rich tradition of editorial cartooning including decades with three time Pulitzer winner, Paul Conrad) runs only one editorial cartoon per week; on Fridays they run a David Horsey cartoon. David was hired by the Times' online division as a columnist who also draws cartoons. In the past the Times ran a syndicated editorial cartoon every day.
Cartoonists hear a lot about editorial cartoonists losing staff jobs, but we don't hear much about newspapers dropping syndicated editorial cartoons; this plague is accelerating as American newspaper editors are becoming more vocal in pushing back against editorial cartoons.
A conservative Pennsylvania newspaper, The Butler Eagle, recently created some buzz among cartoonists by leaving their regular cartoon spot blank as a protest, because the editor couldn't find a cartoon that he liked. Most newspaper editors are conservative, serving red-state rural and suburban Trump voters who push back against Trump-bashing cartoons. These conservative editors complain loudly and often that there are no "pro-Trump" cartoons. Our little syndicate has been fielding many of these calls from editors in recent days. It is even more difficult for newspapers like The Butler Eagle, which doesn't subscribe to CagleCartoons.com and doesn't have much diversity of cartoons to choose from because of their poor choices of syndicate vendors. Even with our wider offering, we have very few cartoons that could be described as "pro-Trump".
Editorial cartooning is a negative art. Supportive cartoons are lousy cartoons. I don't know of any professional cartoonists who would describe themselves as "pro-Trump," but I also don't know cartoonists who would say that they were  "pro-Obama," "pro-Bush" or "pro-Clinton." A good editorial cartoonist dislikes everybody. We attack whoever is in power. We draw what the pundits are talking about on cable news: all Trump, all the time. Editors are coming off of eight years of cartoonists criticizing Obama; now that the cartoonists are focused on Trump, the editors in red-state Trumpland are grumpy.
We've gotten some calls from other media searching for pro-Trump cartoons online, asking us where to find them. One TV news outlet wanted to have a roundtable discussion between pro and anti-Trump cartoonists; they had searched the Web and found cartoons by amateur cartoonists posting "pro-Trump" cartoons on their own blogs. In repeated conversations, I explain the difference between professional cartoonists whose work is published by others and amateurs who post on their own social media accounts – but it seems that the distinction between professionals and amateurs has been lost. Sadly, this is happening as respect for all professional journalists is in decline while president Trump bashes the media endlessly.
Sad times for our profession continue.