Here's an update on our friend and world renowned editorial cartoonist, Vladimir Kazanevsky.  We syndicate Vlad's work to newspapers, see a complete archive of his work here.
Vlad and his wife fled from their home in Kiev last week because of the bombing around them. Vlad tells me he's waiting for his sons and grandchildren to leave the city. Vlad says he doesn't plan to leave Ukraine and he writes that he "believes in Ukraine's victory," but emphasizes that he "must emigrate rather than live under a Putin regime." Vlad writes, "Cartoon art is a strong weapon in fighting for Peace. Many thanks to cartoonists from all over the World who help people to open eyes on Putin's terroristic regime."
Since he left his studio behind, Vlad has been doing line drawings on the road in Ukraine, and he has been sending them to us by email from his cell phone.  Here's is the cartoon he sent today …
And two from last week, as a refugee …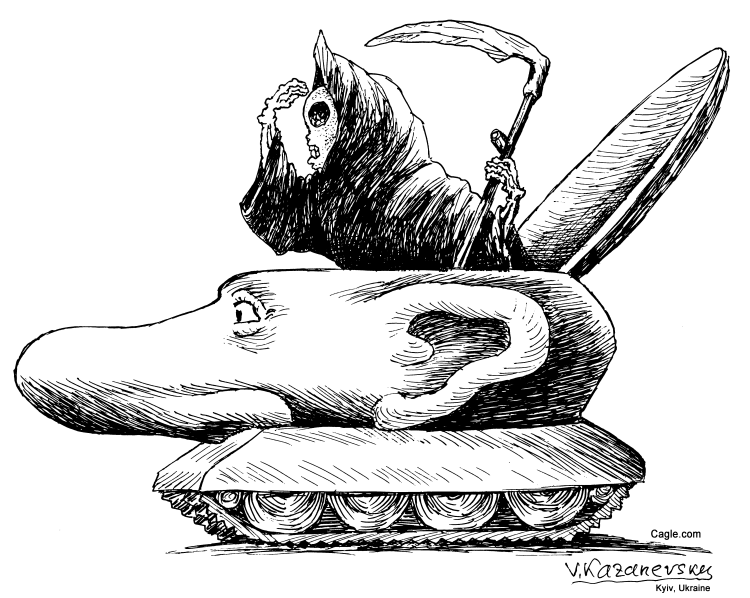 ---
Want to get EVERY new CagleCartoon from our 62 syndicated newspaper editorial cartoonists, in your email box every day? Just become a Cagle.com HERO and you get the exclusive daily emails of ALL THE CARTOONS!  See all the cartoons before the newspapers print them and never miss a cartoon!