I'm back from my brilliant cartoonist/journalist daughter, Susie's wedding. I promise I'll draw more cartoons. Really, I promise. I drew this one live on Twitch yesterday, about Melania Trump's plagiarism of Michelle Obama's speech at the Democratic Convention in 2008. I don't care much about this non-issue, but it makes for a funny scene, which is the extent of my take on this.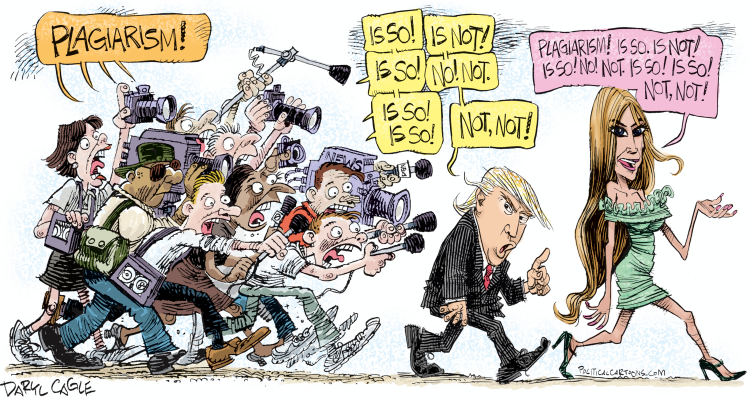 I know that the Donald is quite tall, but I feel compelled to draw him shorter, and I expect that the cartoons of Trump will grow shorter with time. Melania is a wonderful, goofy character to draw and I look forward to more of her! Readers might recognize my group of running media in this cartoon, which I re-use at every opportunity. I like the idea that the breathless media chasing down the next stupid thing is the same, over and over. In the video below see me drawing this one, and importing the media gaggle from a Cagle cartoon oldie.
In the next video below, watch me color this one in Photoshop while I chat with viewers on Twitch.